Willow Island Yurt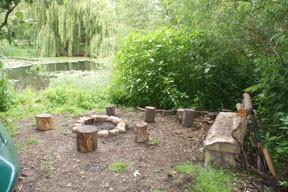 Staying in the Yurt
On the river Avon, flowing through the Warkwickshire countryside, is an island that forms part of the property of our friends Matthew and Kirsty. They are great nature lovers, and have developed a campsite on the island with a yurt, which is available for holidays. I was invited with my friend John to stay in the yurt and test the facilities, so below is my diary of the three days and nights we spent there.
28th June 2011
I arrived at around 3pm to find Kirsty and Jenny watching the tennis. I presented Kirsty with some vegetables and a bunch of sweet peas that I had harvested that morning from my garden. Kirsty then brought out the orange wheelbarrow, and we wheeled my luggage down to the island. The weather was warm, but rain threatened. I revelled in the peaceful atmosphere as we walked along the island path while Kirsty chattered about all the people who had been staying there and pointed interesting things out to me, like all the wild flowers that she has been establishing everywhere over the years, and the chrysalis case of a dragon-fly which had recently hatched on the reeds in the pond. We entered the area of the yurt through a great arch (which John later christened "the Stargate"). An enormous amount of work had been done there since I last saw it a month before. The yurt itself is the dominant feature, standing on its decking platform with its beautiful colours; it has a very pleasing shape and sits happily in the surrounding woodland. Nearby is the bathroom structure, which is very well planned (though not quite complete). It has a "separating toilet" which diverts the different categories of human waste into two separate composting containers. It is totally clean and pleasant to use with absolutely no smells. Both men and women need to sit on the seat to ensure that the waste diversions take place correctly. This is a big advantage in my view, knowing the inevitable splattering of surrounding areas that takes place when men do it standing up! There is also a shower room, and on the terrace there is a space for a basin, and a light and a mirror, with a shelf to put your toothbrushes and shaving equipment etc. On the outside of the main structure is a sink for the washing up. The fuse box and general hub of the electrical installation is here. There is a header tank on the top of a nearby tree(!) and a hot water cylinder with immersion heater behind the building, so all needs are catered for in a very practical and yet "outdoorsy " kind of way. The roof of the building probably takes its inspiration from the structure of the yurt itself, with roof beams radiating from a central disk, and cunningly fitted to the posts that hold it all up. I think that in this structure, as in the new shed that he has built near the main house, Matthew had demonstrated a flowering of his lifelong skills in the making of things. He uses all materials that are to hand, and in these buildings he has made particular use of the wood from an enormous yew tree that he had to cut down to size. The yew wood is sturdy and has an intriguing reddish tinge, and begs to be used as a building material. Its natural twists and bends define the organic nature of the building and Matthew has applied extraordinary skill in making the whole puzzle fit together. When Matthew came down to connect the hot water he showed me a mallet he had made out of a piece of yew wood, which had obviously seen much use banging pegs into the ground. After admiring the bathroom, Kirsty showed me the kitchen tent. This has an outdoor tap, and inside there is a fridge, a microwave oven, kettle, toaster and portable gas cooker. There is also a cupboard containing all the necessary dishes and cutlery, and a set of saucepans, a table, some chairs and containers for putting food away secure from the local wild-life that might otherwise become used to seeking food there. (I don't think there are any bears on the island, but rodents are everywhere of course, and have to be discouraged).
Finally Kirsty showed me into the yurt itself. We respectfully removed our shoes on entry, and I looked around. Kirsty is a "pragmatic visionary". By this I mean that she dreams up brilliant ideas, and then instead of like the rest of us just leaving them with a regretful sigh, she then gets on with making them into a reality. The Yurt is a realisation of just such a dream, and in every detail of its internal fitting it is no less than excellent. There is a coir mat covering the floor, a wood burning stove in the centre, with its chimney going through a special panel in the roof, and seating all around. There are throws and rugs and hangings with predominant colours of red and orange in the eastern style. There is also a cosy sheepskin before the fire. All the seating converts into beds, both single and double, with beds for eight people, and further floor space with cushions for even more. There is electric lighting in the form of fairy lights along the roof beams and along the top of the walls. This gives diffuse but sufficient lighting and is augmented by a solar-powered reading lamp, a wind-up battery powered lamp which is useful in the kitchen at night, and a torch.
After this introduction, we went and collected John from Warwick Parkway station (a 10 minute drive). Leaving Kirsty to get on with her life, John and I visited the local community shop (another of Kirsty's dreams come true) and bought our supplies. We got bacon, sausage, beef-burgers, mushrooms, bread, milk, crème fraiche, crumpets, jam and salad dressing, and brought it down to the yurt. There was already some butter and a bottle of white wine there and I had brought along some tea bags, coffee, potatoes, shallots, soft fruits and salad from my garden, plus a nice selection of wine and beer. So we were all set. We made tea and crumpets to start with, and sat outside the yurt on the decking enjoying tea and drinking in the atmosphere. As it got cooler, we lit the wood stove inside the yurt and sat about with more tea. Then we went out again, and I showed John the Canadian canoe, which he looked at dubiously. I was keen to go out in it. John had borrowed a life jacket and a pair of Matthews old croc sandals (perfect footwear for the place) so I got into the canoe and coaxed John aboard. We untied, took a paddle each and set off. We didn't get very far when I realised that there was a problem with steering, and after shouting several instructions to John to go this way or that he eventually told me he had never been in a rowing boat before and had no idea what he was doing. And this from a man who had been to Cambridge, sailed in sailing boats, and driven narrow boats! It took me a while to believe this was really true, but the evidence was there, so I took a different tack, and had John in the back of the boat, me in the front pointing backwards, and told him to only paddle on one side, and we set off again, a bit more carefully, and eventually managed to steer our way through the shallows into the deeper waters heading upstream, under the watchful eye of the resident swan, who having no family this year was peaceful and forbearing. It was a totally idyllic boat trip, paddling past the reeds and water lilies, watching the bird life and enjoying the late afternoon warmth of the sun. As we got further upstream we observed the branch off to the weir stream up ahead, and the sound of another weir further up with a large slow-moving whirlpool before it and some geese lazily drifting in the rotating water. This made John extra nervous, so we stopped paddling and started to drift slowly downstream again. We let the water guide us and we bumped against the bank under the trees, and looked down into the water, though we didn't see any fish. As we got closer to the backwater where the boat is moored, the current picked up speed, so I got to the front of the boat pointing forwards, told John not to paddle at all, and steered us back through the shallows to the mooring spot. It required fairly vigorous paddling to prevent us being carried straight past and on downstream, something I was keen to avoid! Mooring in the mud was tricky, but we managed it, and got safely ashore, though John slipped and got his foot impressively muddy. This was easily fixed under the tap outside the kitchen, and we went inside the yurt, John with one clean dry sock and one bare foot, and the other sock hanging on the useful tree-like object outside the door. The wood stove is very efficient, and we warmed up with a drink and practised our singing ("There is Sweet Music" by Elgar). Eventually we got hungry, so we cooked shallots and burgers fried on the gas stove, potatoes baked in the microwave, and salad. We were just serving this up when Matthew and Kirsty arrived for a drink, having just returned from rehearsing with their community choir. There was enough for everyone, so we ate and drank outside on the decking, and then as it got cooler, we went in. The yurt was warm and cosy and inviting in its orange colours and fairy lights. We probably drank a little bit too much, and then they went home to bed, and after ablutions in the excellent bathroom, we retired happy and a little drunk to our first night in the yurt.
29th June 2011
I woke early, figured out where I was and went back to sleep again. Later, the call of nature drove me out of bed to the bathroom, and then I went back to bed. John got up and made tea. I think we went to sleep again for a while after that. We eventually got up when the sun was shining down at us through the roof light. We knew that in the evening, we would have to drive to Oxford for choir rehearsals, which imposed a kind of (not wholly welcome) order on the day. We cooked a proper breakfast, did all the washing up, and went down to the shop to restock the food cupboard, deciding on mince and pasta for our main meal. At the shop, I managed to check my emails on the shop computer, which was just as well, since the time of my rehearsal had been changed. Our walk to and from the shop allowed us to admire all the work happening on the island, in particular the vegetable garden, and all the different areas for picnicking, playing, swimming etc. As we passed through the Stargate, we had the definite feeling of stepping between worlds, from our comfortable and serene yurt-world to the big world of affairs outside, and back again.
After shopping we settled down with more tea and coffee to work on the price list for advertising on John's web site. We had planned to do this work here, because it required time, peace, concentration and cooperation. We worked on it for a couple of hours, and made really good progress. We then decided to sleep on it and work on it again the next day. By then it was time to think about cooking, so we did that, and ate a lovely meal outside on the decking.
It was somewhat unwelcome to have to leave to drive to Oxford, but we did, and then returned at around 10.30pm. The sun had gone down, but the sky was still very bright, and we needed no light to guide us back down to the island. The Stargate operated correctly, and we were back in yurt-world where we celebrated by lighting the stove, having a feast of tea, beer, bread, cake and fruit, and playing a card game. Making tea when you have the stove going is good. There is a copper kettle (which should always have sufficient water in it), and which boils quite quickly when placed half full on top of the wood stove with the heat is turned up over half-way. It tends to make the yurt very warm, so you probably need to open one of the doors. There is also a candelabrum of tea-lights which we re-stocked from the supply in the chest by the door, and after switching off the electric lights and going to bed, the tea lights provided a nice glow, automatically extinguishing themselves as we fell asleep.
30th June 2011
We slept late again, and it was my turn to make the tea. After tea in bed, we got up and I started on the stack of yesterday's washing up, while John made breakfast, incorporating the excellent black pudding we bought from the shop the day before. Kirsty came to visit while this was going on, so we invited her to join us for breakfast which she happily accepted. We made another visit to the shop, choosing chicken, vegetables and rice for our meal, and this time bringing a small laptop computer to make use of the free wi-fi connection there, which worked extremely well – a considerable improvement on using the shop's own computer, which attempts gamely to do what is required of it, but is rather over-burdened by Windows start-up accretions.
By now, the pace of life had slowed a great deal. Each action took time for consideration and discussion beforehand, and a certain meticulousness in execution. I decided after due consideration to go for a little row in the boat by myself, and I paddled very slowly and carefully around the backwater, practising manoeuvres with the paddle, and keeping always to the deeper water, avoiding the water lilies and trying to avoid stirring up the mud. From the water near the large willow tree, you can look back and see the yurt along the woodland path. It is a very magical place. Some ducks arrived, and started quacking quite loudly, whether in disapproval of my presence, or for some other reason I don't know. I brought the boat back to its mooring and then just sat quietly in it for a while, looking at the water After a bit I was pleased to see a large shoal of tiddlers swimming about, the first fish I had seen. Apparently there are millions of them about, indeed at least 12 species of fish live in this stretch of the river.
We were sitting back inside the yurt doing a bit more work when Nick arrived to visit us, rather tense because he had a lot of other things he knew he wanted to be doing. We calmed him down by taking him out in the boat, and then I prepared baked potatoes and salad, which we enjoyed in the sunshine on the decking. He didn't stay after that, but he seemed a bit happier. Maybe a little of the magic had worked on him too. We spent quite a lot of the afternoon inside the yurt. The weather was cool, and it was cosy inside, and somehow never boring. Indoor activities include reading, working, playing games , philosophy, tea-making and just talking. We did all of these. Later, Matthew came down with the wheelbarrow filled with a few items to enhance the kitchen facilities, and he got the hot water working properly. Our chicken and rice meal was really tasty and after dinner we went inside again. All this time I was drinking in the aura of the yurt. The size and shape of the place, the woolly lining with its particular smell, as well as the warmth and the colours and the comfort all contribute to something – what can it be? The words healing and spiritual renewal come to mind.
1st July 2011
We awoke to a warm day. I went out and enjoyed the luxury of washing in hot water. Then we packed and tidied up and washed up, leaving the place as much as possible the way we found it. I would have been perfectly happy to stay longer, but strangely I was not sad to leave. The yurt is still there on the island, and it has given me something to take away with me, so it's in my memory as well, and I shan't forget it.